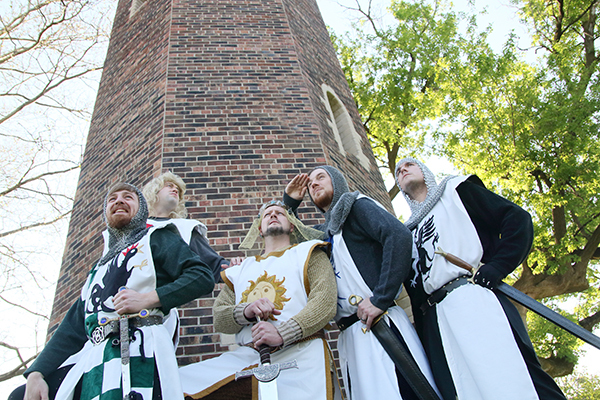 SPAMALOT
As a photographer different requests for services arise. There's always the cosmetic: "Can you remove that zit?" or "Can you make me look thinner?"
During a family portrait session at a private home I was asked to remove all the telephone wires and poles and to make it look more secluded. I've swapped heads to create the better composition. I've brightened eyes and removed wispy hair. Editing is a strong skill that should enhance the image and I enjoy having some control over those aspects of the image.
As the photographer for Riverwalk Theatre I've had to make use of my editing skills on some dramatic and hilarious ways. For the production of RENT I had the cast pose in front of the colorful REO TOWN sign at the corner of S. Washington Ave and Malcolm X St. I took a variety of photos and was able to create an image that made it look like they were at a sign that spelled RENT instead.
Once I had to take a photo of the cast and then put them into a barrel going over the Niagra Falls.
In May I was contacted by the directors and producers of the production of Spamalot. I had seen some pre-production practices and was waiting for this call. I knew Michele Purosky would have something elaborate planned. She also produced Catch Me if You Can and had me photographing the cast at the local hospital on a gurney and at the airport, somehow getting us permission to shoot on the tarmac and riding down the escalator.
The setting for Spamalot is 5th or 6th Century England and parodies the King Arthur tale made famous by Monty Python and the Holy Grail movie in 1975.
In the initial call with Michele she was looking for a location that might allow us to create images that would create this time frame. She wanted a castle and a lake. To her great creative credit she found both, sort of.
On the north edge of East Lansing is an apartment complex that has a castle tower on its property. We scheduled the cast to arrive in full costume and we would create the scenes to market this play.
We arrived and began circling around our potential backdrop. There was, in fact, a castle tower. It was more of a prop since there wasn't a way to actually climb inside the tower, although there were windows at the top. It was a bit of disappointed as Michele had hoped to have a photo of Sir Lancelot played by Zachary Riley leaning out the window.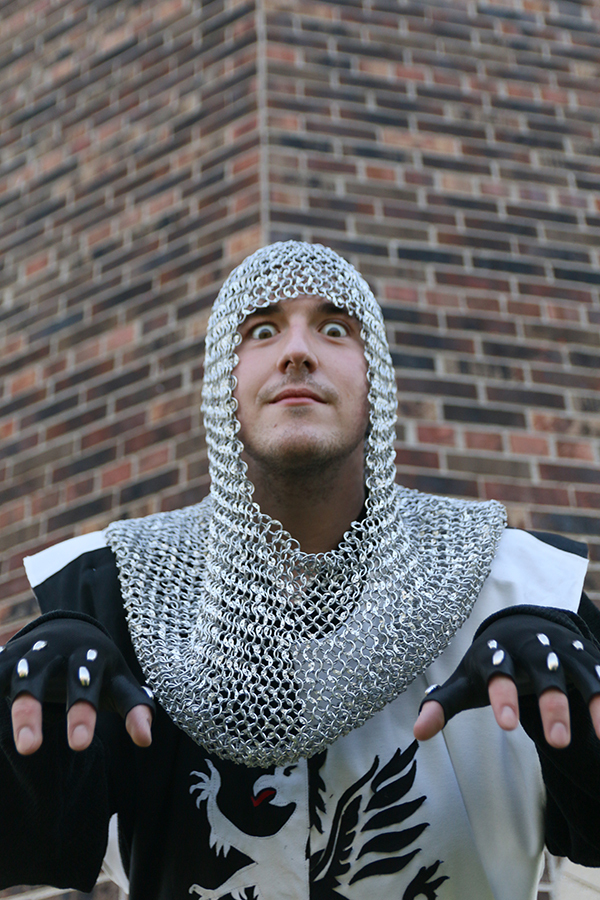 Knowing full well my capability I had Zachary climb up onto a nearby rock and I squatted on the ground in front of him. Then I had him lean over me as if he would be leaning out the window. His ability to do exactly what I asked allowed me to create the image they had originally hoped to get.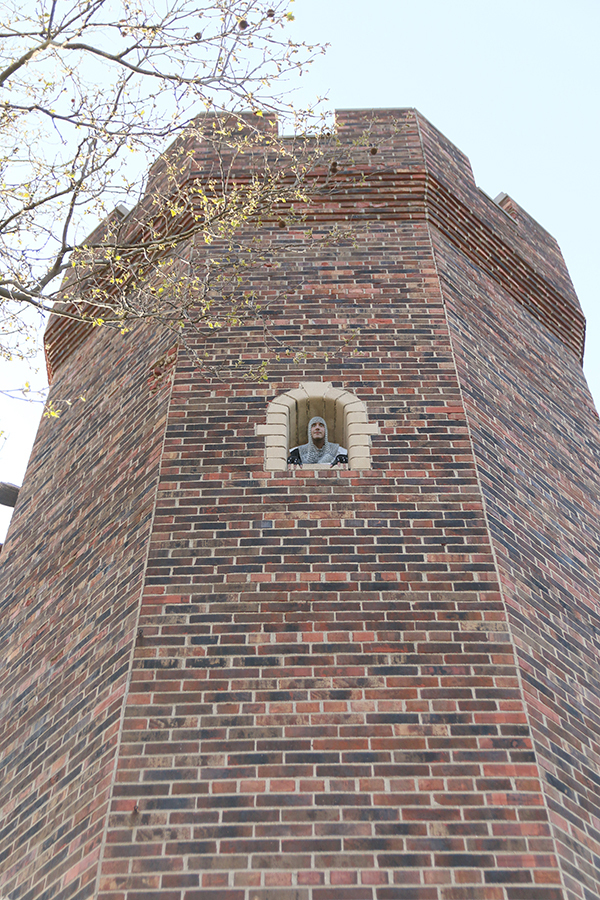 One of the biggest challenges of shooting on this location was removing all the background, 21st century objects like cars, apartments, signs, houses, people, lights, sidewalks, streets, hedges and such. I desperately tried to shoot in a way to minimize these extras. It was difficult to say the least, yet do able.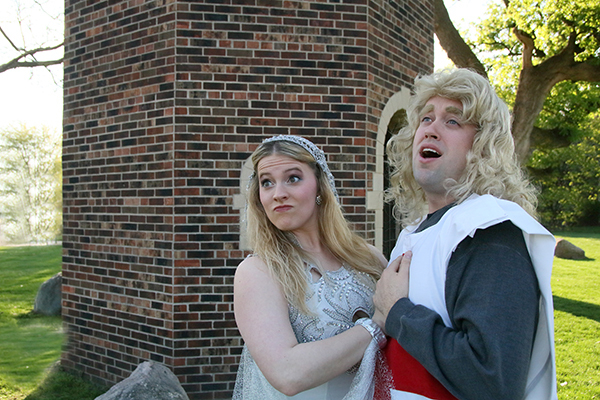 Another issue was the Lady in the Lake. At this location we didn't have a lake. We had a drainage ditch. I laugh about it now but trying to create a lake edge with what we had to go with was pretty daunting. I hope I did it justice.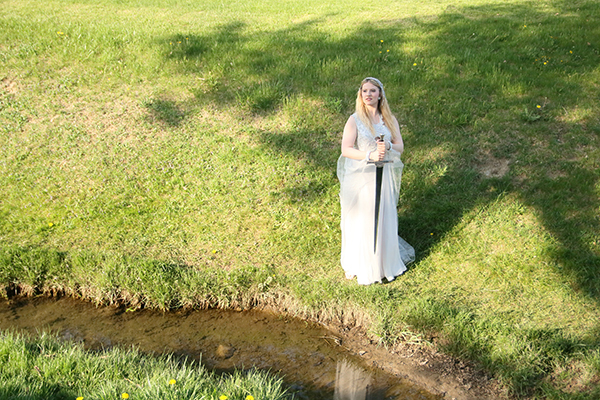 Finally I was asked a few days after the shoot to add a falling cow. Yes, I was asked to drop a cow onto the unsuspecting cast as they posed under the castle tower.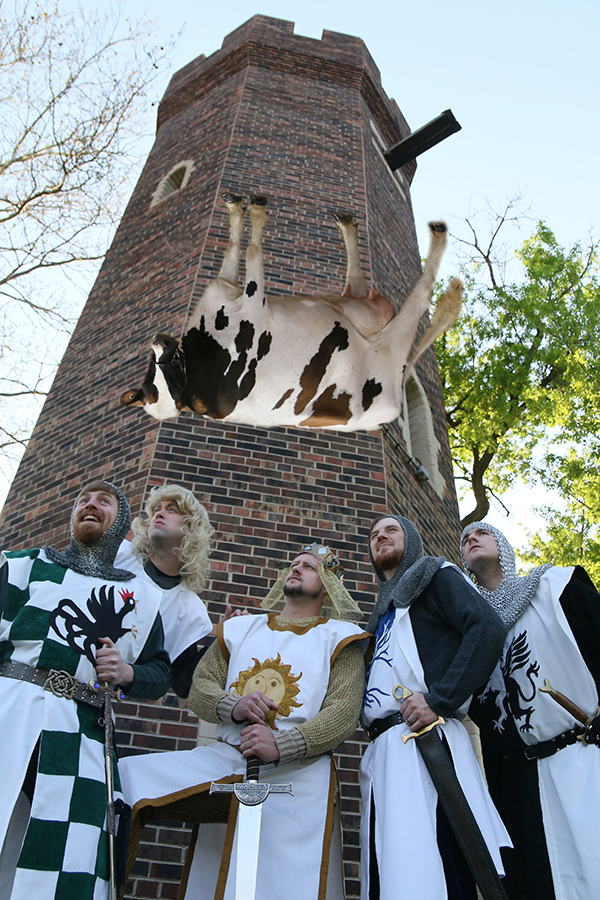 Last summer I had been hired to shoot the MSU Farm Auction and had taken multiple photos of cows. I went through my images, picked out a nice looking cow and added it to the image. I haven't seen that one used in the marketing yet but I was told they liked it.
This is just a sample of some of the things I can and often do to create the perfect images for my clients.
I really love being a photographer and using some editing skills to tweak an image. Not all of my sessions require such skill, but if they do, you know I'd be up for the task.
Spamalot is playing at Riverwalk Theatre June 7-10 and June 14-17.