On October 16, 2016 our family woke up early, packed for a day trip and hopped into my grandmother's Oldsmobile. She had passed away almost a year earlier and I had bought the car off the estate. I had paid it off a month earlier. It was a foggy, cool autumn day but I was excited to finally have a day to drive to Tahquamenon Falls in the UP of Michigan.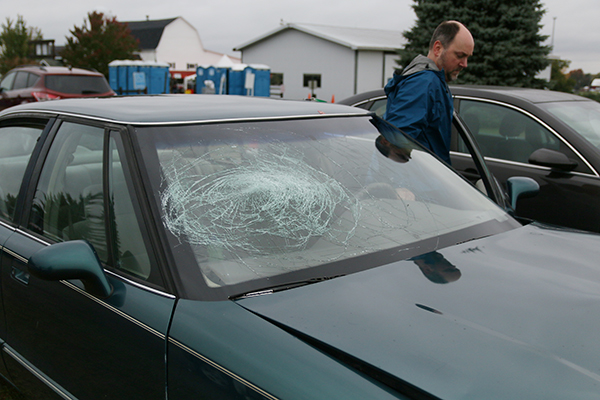 Unfortunately just north of Alma a deer crossed the highway and we smashed into it at 70 miles per hour. It cracked the front window, set off the air bags and the driver side one started making heavy smoke. The hood was pretty smashed in too.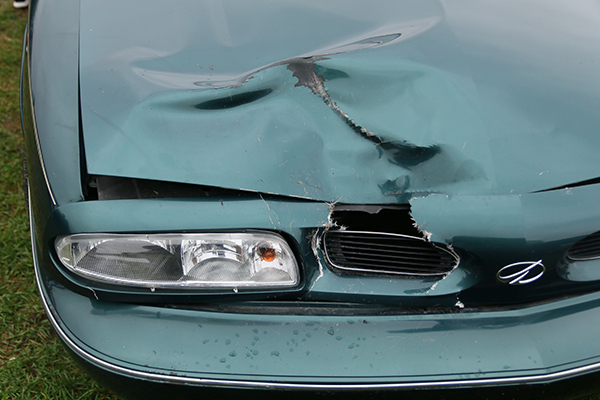 After the shock of it Pat started putting the car back together enough that he was able to drive it to a nearby McDonalds. The police officer said it would be fine to drive home, although reluctantly. We took all the back roads and even stopped at Uncle John's Cider Mill in St. Johns to get pumpkins, cider and donuts. It wasn't a complete fail but it wasn't exactly what I had planned.
Again, this year, the urge to drive up north blossomed in me. The twins even had an extended weekend added to the calendar and I thought it would work out great. I even imagined taking camping gear and camping so we could spend the weekend away. Unfortunately it got really cold up north and there was even some snow fall.
On Saturday I was able to convince my husband that a day trip would work out. We could head north and decide if we wanted to see the Tunnel of Trees or make it all the way to Paradise! As we drove I became more excited about seeing the Mackinac Bride and the falls. The tree color was amazing up to that point and I was eager to take some pictures of the falls with similar coloring.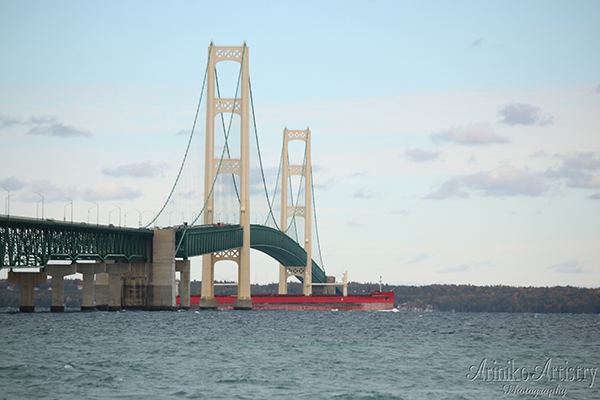 We made it to the bridge around lunch time. We stopped for a little food we had brought, took a walk around, Evan skipped rocks and I took pictures. We had brought our dog so he got a walk too.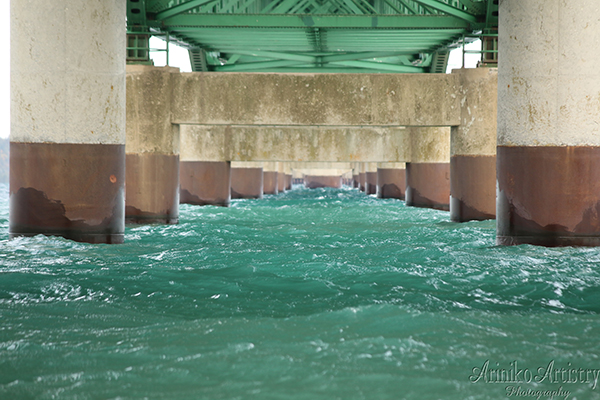 We were about an hour later than I had wanted to be, but not by much. We continued over the bridge. I don't think I'd been over the bridge in about 13 years!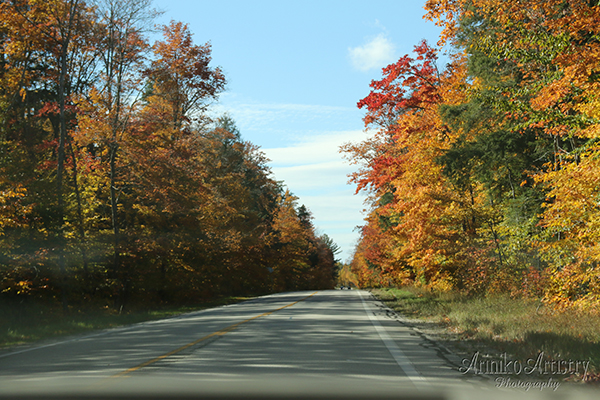 It took about another hour to get to paradise and over to the Tahquamenon Falls area. That's when we hit the traffic. We were no where near the entrance and cars were at a dead stop. One of the reasons we didn't go to the Tunnel of Trees was because it was congested. I didn't even think about this area being congested too. We decided to head to the Upper Falls. We pulled around the cars and drove about a mile before coming to the same congestion. This time we were about two miles from the parking area. We waited this time though--we didn't drive 5 hours for nothing!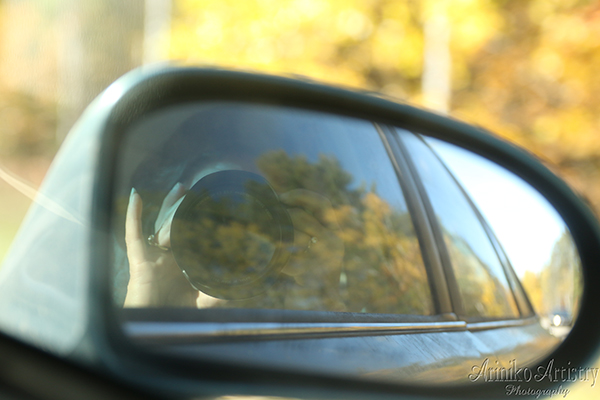 After about an hour we made it into the park and were on our way to the falls--along side a million other people.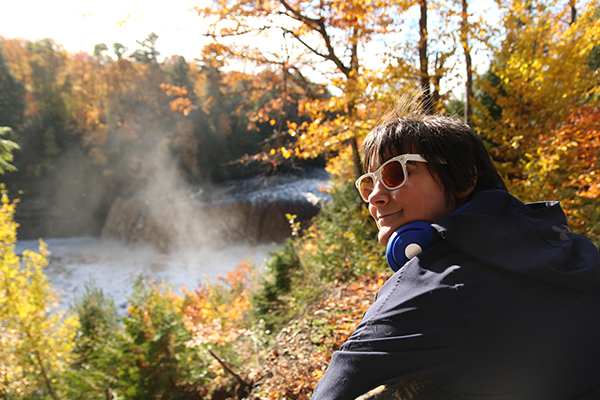 Luckily it was all worth it! The walking trail was enveloped in bright yellow trees creating a bright tunnel. It was pretty muddy and many of the trails were flooded but the main path was clear. At each overlook there was a good crowd of people so we had to wait there too.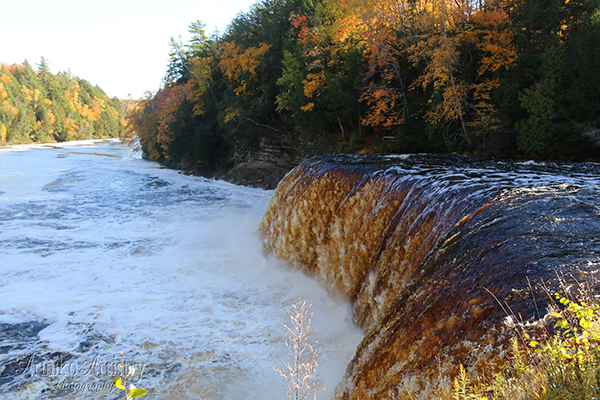 We stopped at each one, took our pictures and snaked back out to the next spot. We stayed for about and hour and then headed back to paradise.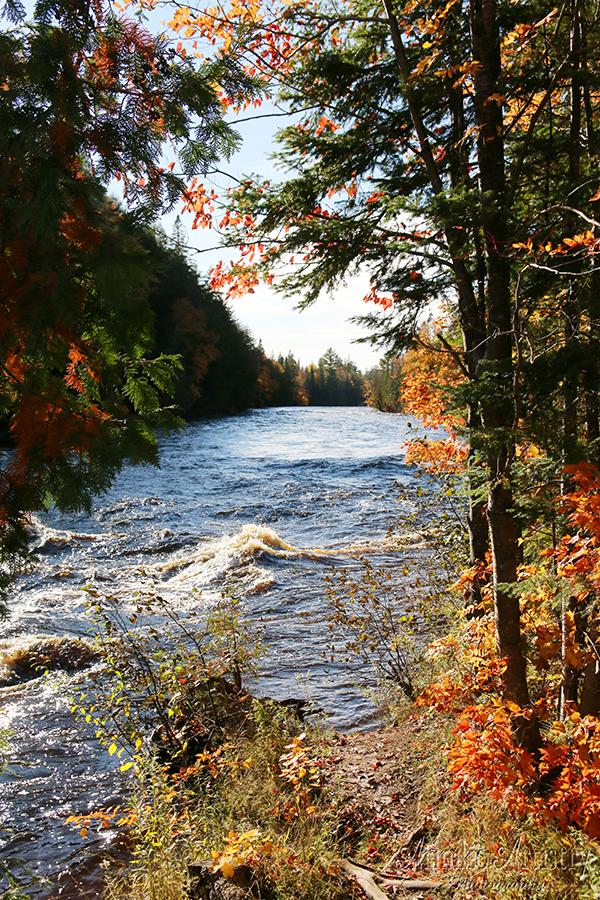 When I was pregnant with the twins I was told to no longer travel after 25 weeks. At 20 weeks we took our other sons on a road trip to Paradise for their blueberry festival. That was the last time we had been there.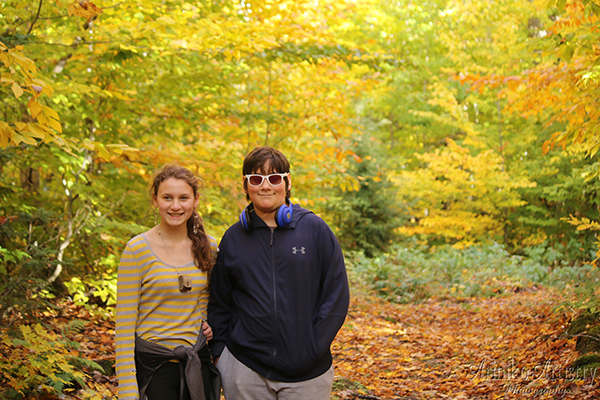 After that we took our time coming home. We found a community center on Lake Superior and stopped for a minute. Then we drove to St. Ignace just as the sun was setting. I desperately wanted a photo of the sunset. My husband used his mapping skills and found a neighborhood that dead ended right into a little beach. I got out and took a gorgeous picture of the sun setting and the Mackinac Bridge in it. It was one of my favorites from the trip.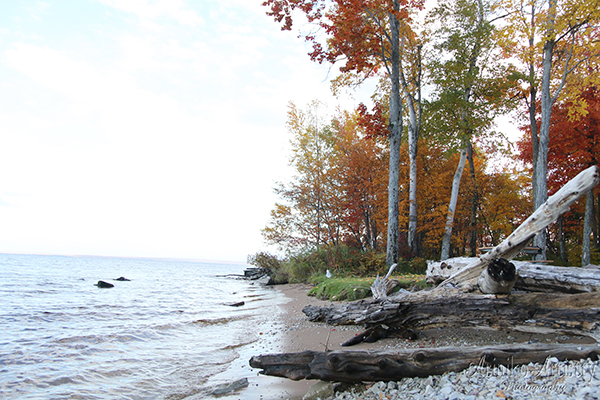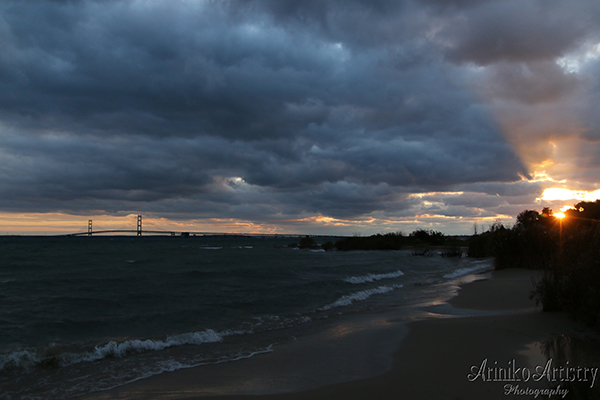 Finally we stopped at a pastie shop and got some pasties and fudge. It's what you do in the UP, eh?